Retreats, Workshops, and trainings
Mexico – Canada – India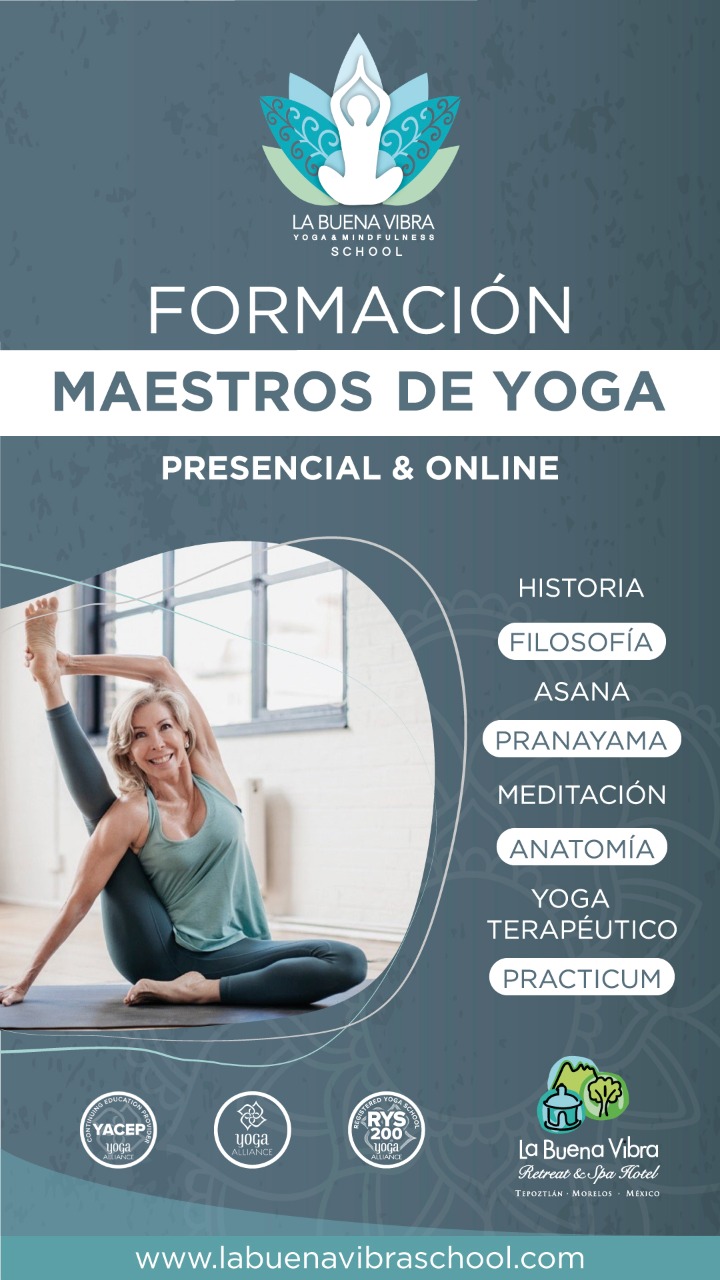 9 months of continuous training with expert teachers online and in person with La Buena Vibra Yoga and Mindfulness. Our students are prepared to exit the program with confidence to take on the role of a certified teacher. We meet and exceed the 200-hour standards and norms of the Yoga Alliance and the Educational Categories of: Techniques, training and practice; Teaching methodology; Anatomy and physiology; Yoga Philosophy, Ethics and Lifestyle; and Practicum. We provide twice the amount of practice and hands-on teaching methodology as other courses, in order to adequately and thoroughly prepare our students as yogis for their future role at the head of a class.
Training and certification in both Ashtanga Vinyasa and Hatha Yoga, which includes the complete primary series, more than 50 additional asanas (postures), mantras, pranayama, meditation, philosophy, history, classical Yoga texts, ethics, and lifestyle practices. In Spanish and English.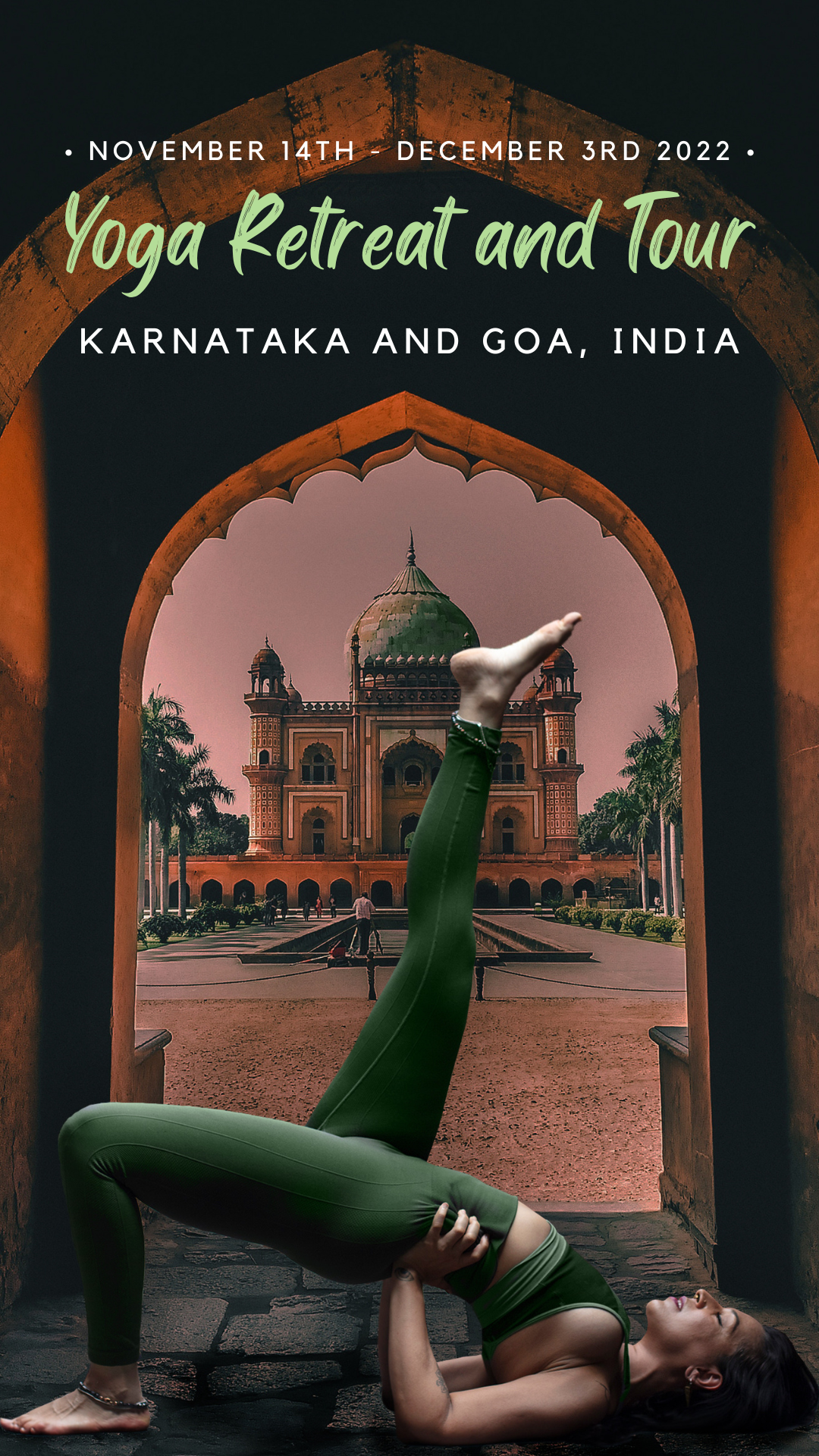 An adventurous and exciting 20-day tour and retreat itinerary, created with love and devotion by Yogini J'aime. Starting in Bangalore, highlighting with a week in Mysore at a Yoga Ashram for a 50-hour Ashtanga Vinyasa intensive training course, traveling through Karnataka's gorgeous temple and pilgrimage sites, and culminating in a week of beachfront yoga and meditation in Goa. This event promises to be an unforgettable experience for yoga and travel lovers.
Bangalore, Mysore, Shravanabelagola, Halebeedu, Belur, Chikkamagaluru waterfalls, Hampi, Agonda Beach, Mandrem Beach
All-inclusive food, transportation, and accommodation during the event.
International and domestic flights are not included.
For pricing and a detailed itinerary, please contact us directly.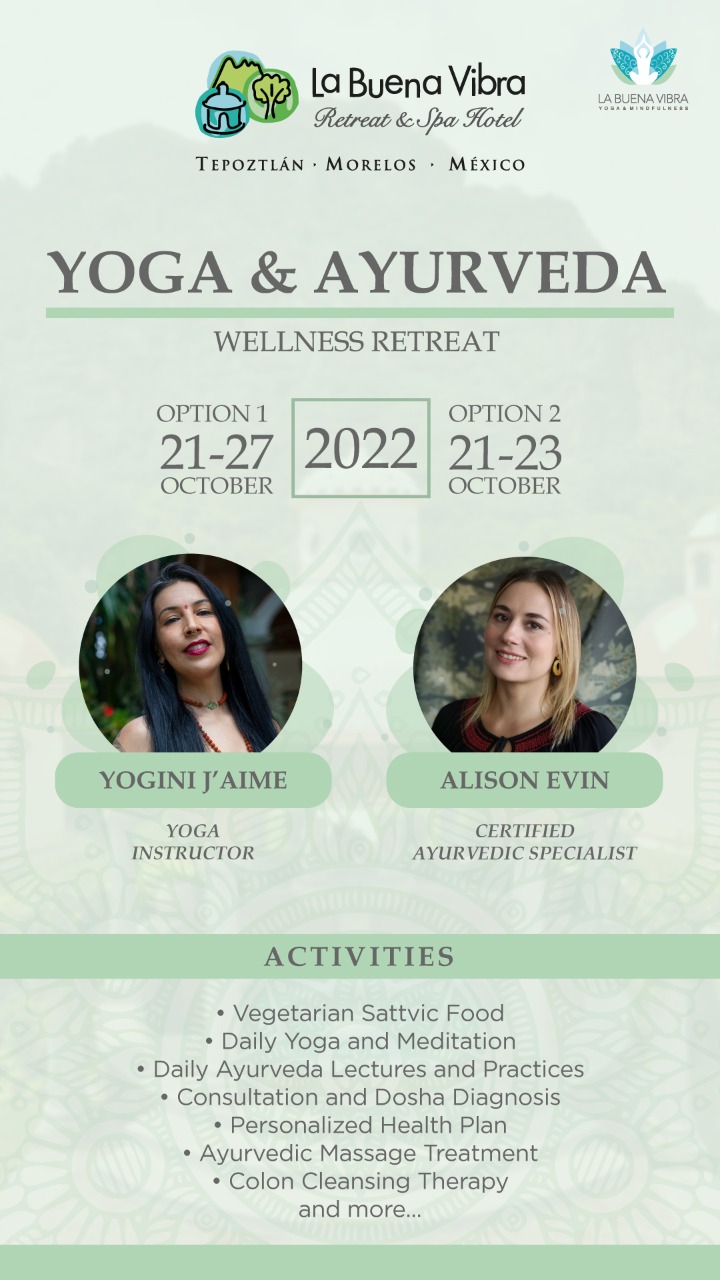 Treat yourself to a long weekend or a weeklong retreat in the luscious La Buena Vibra Retreat & Spa in Tepoztlan, Morelos.  During this luxury Ayurveda and Wellness retreat, you can expect daily yoga and meditation classes, daily lectures on Ayurveda, a vegetarian sattvic cooking class, detoxing spa treatments and massage, and fresh light meals.
Our Ayurvedic specialist, Alison Evin will provide a private and personalized consultation to determine your dosha, any relevant health imbalances, and create a stylized Ayurvedic health plan just for you. She has personally instructed and certified the LBV massage therapists in Abhyanga massage, and they will be providing everyone a holistic 2-hour oil massage to relax and balance the body
Our Yoga specialist, Yogini J'aime will be teaching daily yoga classes, thematically constructed around the doshas, and appropriate meditations to balance the body and mind.
J'aime offers private education in Yogic Theory and practice, psychological guidance following the methods of Vedic Counselling and Yoga Psychology, private in-person workshops, and online courses on the following subjects:
Yoga Philosophy – Principles of Samkhya and Classical Yoga Darshana
Asana and the Principles of Alignment
Yoga Psychology and Meditation
The Subtle body of Classical Tantric Yoga and the New Age
Therapeutic Yoga – Yoga and Meditation techniques to relieve stress, anxiety and depression
Yoga Teaching methodology, business, and ethics
History of Yoga – From Pre-Vedic to Modern times
For more information